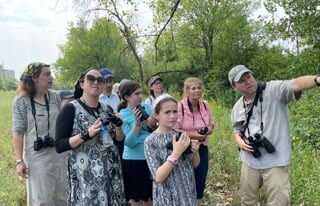 JNDC/Chicago Audubon Society Guided Bird Walk Draws Enthusiasts to Park 538
Nearly 50 people from northside communities participated in a guided bird and nature walk at Park 538 on Sunday, Sept. 12, sponsored by Jewish Neighborhood Development Council of Chicago and Chicago Audubon Society.
The first free public program of its kind to explore nature along Park 538's hidden trails was timed to coincide with peak fall migration along the Chicago River system.
Lead by experienced volunteer guides, participants scouted the wooded trails in three groups, reporting sightings of Canadian geese, mallards, double-crested cormorants, great blue herons, a downy woodpecker, gray catbird, Swainson's thrush, American robins, common yellowthroats, a bay-breasted warbler, and a northern cardinal.
Mark Ross, a math teacher at Amundsen High School; Judy Pollock, president of Chicago Audubon Society, and John Bates, curator, Field Museum of Natural History, lead the groups.
Park 538 is located in West Rogers Park on Kedzie Avenue, between Touhy and Albion.
According to participant Aliza Schultz, an Illinois Young Birder who has visited popular birding areas including Montrose Harbor and La Baugh Woods, what makes Park 538 special is its variety of different habitats accommodating a variety of species, and despite being near a busy urban intersection, is quiet and peaceful. "And it's walking distance from my house."
"It was such a beautiful experience to meet so many neighbors and get to share in nature together," said Adina Mayer of West Rogers Park.
Future bird walks and nature explorations at Park 538 are planned. For further information, contact info@jndcchicago.org.